Moments of My Life Through Music
This is a collection of stories about songs that help tell stories from my life, to help my kids understand me, if they want to.
Bryan Adams – Summer of '69
When I lived in Arizona, I spent a lot of time in trees and on my bike. We moved to Alabama just after my 8th birthday. I was part of a group where I needed to go sell magazines or other things, and I sold a lot. Enough that I got a transistor radio. It took a 9-volt battery. This was my first time to discover music on my own.
I loved to get my BMX bike going fast, and doing power-slides, where I would slam on the brake, and see how far I could skid, and if I could make a J shape in the asphalt. In a nearby cul-de-sac (S. Fern Cir, most likely), I would set up this radio, then ride my bike around it while doing tricks and power slides. My "power song", the one I would turn up to the highest volume that wouldn't create distortion was "Summer of '69" by Bryan Adams. It must have been in heavy rotation because I don't remember being frustrated waiting for the radio to play it.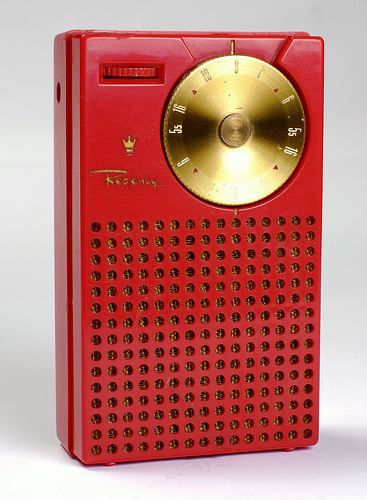 Van Halen – Jump
I first heard the keyboard solo when a neighbor (Greg Beck) was playing this solo in his garage. It was amazing. I must have been in 4th – 5th grade. It made me want to play the piano.
The Presidents of the United States of America – Peaches
This song came out when I was shaping my independent music identity in high school. I was almost exclusively limited to "Alternative" music, and this song was on those charts. It was great because it is just a song about peaches. No subtext. No rebellion. Just stating facts about peaches.
Better Than Ezra – Good
This song was on a sampler I got in high school, a period of time where I learned a lot of new music through CD samplers. It was a magazine called huh. It also gave me Radiohead's Fake Plastic Trees  and Sinead O'Conner and Shane MacGowan doing Haunted. Actually, that song was introduced by MTV's 120 minutes, but it was from the same period. This was an era of CD's, but before the era of burn-able CDs and I liked variety. The way to get variety was to get a CD sampler. My favorite CDs were a few from huh. So I played this song a lot. My brother Alex's worst memory of high school was when he woke up hearing the bass line from Good while in bed, and I was playing it on repeat. He thinks this is a testament of how incredibly charmed his high school life was, and he's gracious about that.
Cake – I Bombed Korea
We went on a high school track trip to Florida when I was a junior, so 1995. We stayed in a hotel on the beach and had a balcony. At one point on that trip, there were sea gulls dive bombing past my window. It was amazing. Someone on a lower floor must have been throwing bread crumbs out for the gulls that they would have been grabbing in the air on their dive bombs. It was an amazing experience.
Cake, on their FANTASTIC album Motorcade of Generosity had a verse where John Crea recounted almost exactly the same story that I experienced. Hearing of this shared experience in song instantly cemented this as an iconic song for me.
Rancid – Ruby Soho
The summer between my junior and senior years I had a computer, and Tetris and Minesweeper. I got EXTREMELY good at both while playing Rancid's And Out Come The Wolves on loop. That was a great album, and I spent weeks doing nothing but slightly improving on top scores. My Minesweeper best times were 3, 13, and 93. Later, in college, once I got an optical mouse, I got the scores down to 3, 9 and 72, but without the wheel mouse handicap. Ruby Soho is just one of the great songs from that album.
War – Lowrider
There was an alternative radio program that I could pick up in my bedroom on Sunday nights from Tuscaloosa. The DJ's opening theme song for that program was War's Lowrider. He always kicked in his introduction before the lyrics kicked in, so it was years before I learned that this was a real song and not just his amazing introduction. I tried to tune in every week just to hear it.
When I was in 8th grade, I wanted to quit track and field, and my dad let me pick something that I would get as a reward if I finished out the season. I picked an Emerson CD/double cassette/digital stereo from Walmart. I finished out the season and ended up being quite good at high school track, and then became a college track manager, then Sports Information writer, and got to know several olympians at SMU.
It was this Emerson stereo that I would obsessively wire increasingly gangly antennas to pick up radio from Tuscaloosa and Atlanta.
The Sunday night shows on 99X in Atlanta were my holy grail of listening, and I'd have friends over to listen to those shows. Ironically, Chad Long came over once, and we would have had much better luck tuning in from his house because he lived up on Sand Mountain, which was between Atlanta and Scottsboro. For some reason, this didn't occur to me at the time.
One night, Pearl Jam played a live concert that I was able to catch almost all of. It was Easter, and a wonderful show. Eddie Vedder then DJ'd another 90 minutes after the concert that was magical.
After I got that stereo, John Akins sold me some CDs he didn't want any more. They were Bon Jovi's Young Guns II, Europe's The Final Countdown, and two others that I'm shocked I can't remember now.
For my birthday that year, Kireet Reddy gave me The 10,000 Maniac's Our Time in Eden, Counting Crows' August and Everything After, both of which I listened to hundreds of times each.
This was much more than just War's Lowrider, but that song was a consistent part of my relationship with that stereo, which opened me up to being able to be in control of my own music choices.
Guns N Roses – Mr. Brownstone
One of the first cassettes I got my hands on was Guns N Roses' Appetite for Destruction. Adam Pierce got it for me. I don't know what the terms were. I think I was in 5th grade. This was an album that had a parental warning on it, and I knew I was being naughty by having it. I would hide it in the cassette drawer and listen to it on my dad's component cassette player. I think I got to listen to it twice before it was found. Some of the songs on that album were known, and played on the radio.
Mr. Brownstone was the first song that I remember thinking was catchy, or grabbed me, but wasn't ever on the radio. I remember feeling special that I got to hear because it was an album, but not on the radio.
The liner art was legitimately disturbing to a fifth grader.
Wilson Philips – Hold On
The first tape I bought from a store was Wilson Philips' Wilson Philips. I was 12 or 13. It was great. I thought Hold On was moving and inspiring. The way it broke down with drum break, then isolated harmonies was neat.
Phil Collins
I knew Phil Collins was a big deal in the early 90's. One time on a family trip through Minnesota on the way to North Dakota, I was reading a newspaper and saw that Phil Collins was in town for a concert. I was amazed to be in a city great enough that Phil Collins would perform there. It never occurred to me that in large cities arena concerts were normal.
There really isn't a song here, but it was a big deal to me.
Hamell on Trial – Big as Life
In 1993, at Music Midtown in Atlanta, I got up some gumption and went to the 99X table. Somehow I got a promo CD. It was Hamell on Trial's Testimony, Words and Music Sampler. It is my favorite Hamell on Trial CD, because Ed Hamell gave an intro for most of the tracks. His stories and jokes were charming, and the music was amazing. I didn't actually get to see him at that festival, and wouldn't for about six years after that when Bryan Ellett and I were two of the (at most) five paying patrons of the show. He played for 2+ furious, sweaty hours, and it cemented my fandom of Ed.
Since that show in Dallas, I saw Ed play in Denton at Dan's Silverleaf, Rubber Gloves Rehearsal Studios in Denton, a Righteous Babe album showcase at a UT theater in Austin with Chris Banner,  in Chapel Hill, NC with David Daniels (who hated it), and in the summer of 2013 with Jason Hess at the Texas Theater where he opened for Hokie Fight.
He's one of my musical and life heros.
Big as Life is a great song that epitomizes Ed's tender rebellions against society's norms by telling stories of the victims of bigotry.
Peaches – Fuck the Pain Away
Peaches was one of the first times that I was shocked and grabbed by a song after college. At this point, the internet was a great way to discover music, but I hadn't experienced anything like Peaches. This was my first exposure to electronica, and one of the first albums that Emily and I bought and listened to after we were married.
Broken Social Scene – Capture the Flag
I had an amazing night in Dallas once when Emily was out on a trip for Dallas Children's Advocacy Center. I was walking to Jenna's All Good Cafe, from our apartment at The Kirby where Lizzy Wetzel worked. We went every Tuesday for 2-for-1 entree night. I was having a cigar on my walk and saw what appeared to be a confused homeless guy with a map.
I crossed Main St. and asked him what I could help him with. He was looking for a mom and pop place to have dinner. I invited him to join me, still having no clue who he was. Being that he looked homeless, I figured I might be buying him dinner, which would be essentially free for me, due to 2-for-1 night.
It turns out it was Andrew Whiteman, the guitarist from Broken Social Scene. They were touring from Toronto down to Austin for SXSW. The rest of the band had gone over to see Modest Mouse in Ft. Worth. Andrew got to hang out with me.
He told me the story of the band, which was briefly that a bunch of professional musicians in Toronto would get together and eat and jam on Sunday nights. On a lark, they recorded an album. On a lark, they submitted the album to press. On a lark, a reviewer at Pitchfork reviewed it. It stuck in that reviewer's craw and it got one of the best reviews up until that point. They went from being jamming friends to a band on the strength of that review.
Now, they'd been touring and didn't "need" SXSW.
This was all amazing to me, and I didn't really believe that I'd like the band.
That night, I took Andrew to The Doublewide. He loved it. Two people down from us at the bar was a woman with a Canadian accent. Andrew started talking to her. It turns out she was BSS's publicist and press agent, and she was at The Doublewide with a friend on their way to SXSW. She had a national radio show on CBC, and had never met Andrew. I had to be at work at 7 am the next morning. They went out to more bars, but Andrew pledged to put me on the list the next night.
The next day, I went to the BSS show at The Curtain Club, where I was, indeed on the list. I had to skip out after the opening bands to go pick up Emily from the airport. We went back to the venue just in time to hear "Thank You! Good Night!" Emily got to meet Andrew.
The next year, we went and saw them play at The Gypsy Tea room for an amazing show, and I got to say hi to Andrew again.
A couple years later, I was in Toronto doing work for The Royal Bank of Canada and got to catch BSS do a festival show, which was another amazing experience, and the last time I saw them.
The Tragically Hip – Scared
Growing up in Scottsboro, AL had many perks. One of the best in the '90s as a music-hungry teen was the used CD section of Unclaimed Baggage. For $2.50-$5 per disc, you could buy music that people cared enough to travel with on airplanes.
I built most of my CD collection from those used bins.
One time, I saw that there were about 6 different albums by a band called The Tragically Hip. This was an indicator to me that someone loved that band and lost their entire collection. I started with Day for Night. It was incredible. The guitar sound they have is great. The lyrics were poetry.
There is a song on that album Scared, that I've listened to heavily in about three periods of my life. Each time, my interpretation of that song has changed. It's a beautiful song that has the vocals end about half way through the track and I've always used that time to contemplate the lyrics and be taken away to a world of thought.
I went back to UBC and purchased the rest of their albums.
I got to see The Tragically Hip at Trees in Dallas in about 1998, and then again at the Gypsy Tea Room in about 2000 with Emily. We also saw Gord Downie play for about 40 people at the Gypsy Tea Room on the Coke Machine Glow tour. That was great.
 Wilco – Spiders (Kidsmoke)
Some of my favorite music reviews have aired on NPR's All Things Considered. I was obsessed with Wilco's Yankee Hotel Foxtrot the year after I graduated from SMU. That album got a lot of press, and there was a painful documentary about it, and all the frustrations releasing it. There was a significant rift with one of the members of the band who added a lot of instrumentation to that album and there was some suspense to what their follow-up album would be like.
The NPR reviewer highlighted the song Spiders (Kidsmoke) and it's long and daring guitar parts. I bought the album based on that review, and enjoyed it.
When I was traveling for work a lot, I made a habit of bringing one CD, or buying a CD on the trip, and therefore associating the CD with the city/trip/rental car.
Gwen Stefani's Love Angel Music Baby is strongly associated with a trip to Tampa/Sarasota to visit Nathan Frantz, Jared Morrison, and James Ehnes. A story from this trip would win me dinner in a bet with Mark Murphy.
It was a trip to Jackson Mississippi. I had a rental of an Accord Coupe, which I loved. Spiders (Kidsmoke) was on repeat for almost the entire trip at a loud volume and it was a joy.
The MOG Playlist
The MOG playlist for my kids can be found here: http://mog.com/m/playlist/2990275?ci=40000